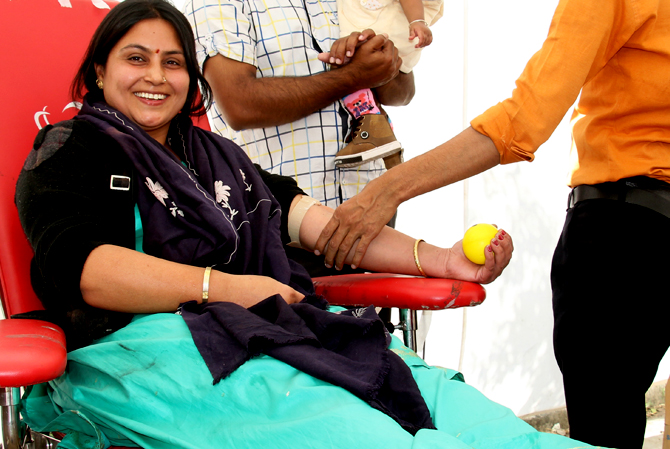 Blood Donation Camp
CFI Charitable Trust has conducted its 3rd blood donation camp on 9th December, 2017 at Shankar Garden, Bhopal. Through organising blood donation camps, CFI want to promote the national efforts to ensure self-sufficiency of blood supply through 100% voluntary non-remunerated blood donation.
The camp was organised with the technical support of Indian Red Cross Society, Blood bank, Bhopal.
The pathways of Shankar garden was abuzz with young individuals chatting with each other, happy to be able to play their part in lending a helping hand to people in the society.
The camp started from 12:30pm and continued up to 3:30 pm, with a steady stream of donors throughout and 35 units of blood collected. Throughout the camp, there were smiles and laughter all around a true embodiment of what the organizers believe serving the poor and the needy.
Jyoti a housewife had a desire to donate blood but did not get an opportunity. She said, "I feel very happy to donate blood for the first time in my life". "Blood donation is the most valued service to mankind. Nothing is comparable to the preciousness of human blood. The gift of blood is the gift of life. There is no substitute for human blood and cannot be manufactured anywhere else – it can only come from generous donors", said Abraham Thomas co-ordinator of the camp. Shubham a donor said, "I donate my blood at regular interval which will definitely help to save lives of some and will also keep me healthy".
Blood is the most precious gift that anyone can give to another person, the gift of life. A decision to donate your blood can save a life or even several, if your blood is separated into its components red cells, platelets and plasma which can be used individually for patients with specific conditions. Voluntary non-remunerated blood donors (VNRBD) are the foundation of a safe, sustainable blood supply.